The Mental Wealth Academy is a partnership offering a programme of non-clinical mental health support for 16-25-year-olds experiencing mild-moderate mental health challenges.
Last year, 51% of the young people we supported through the Mental Wealth Academy identified as part of the LGBTQ+ community.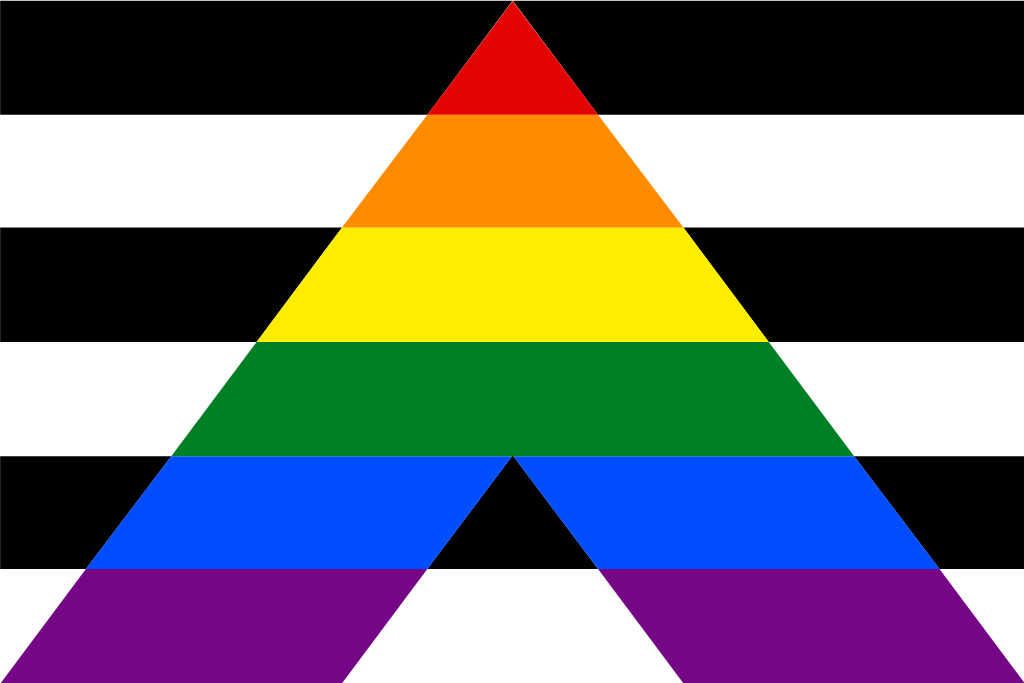 This is the LGBTQ+ ally flag. It uses the black-white colours featured in the heterosexual flag and adds a large rainbow colored "A" (for "Ally") to indicate heterosexual and cisgender support for LGBTQ+ people.
We know that LGBTQ+ people experience mental health problems at a disproportionately high rate, largely due to the stigma, marginalisation and phobias they experience from within sections of society.
This makes it more important than ever for heterosexual and cisgender people to become active and supportive LGBTQ+ allies.
Check out our top tips on being an LGBTQ+ ally.
Being an ally doesn't mean you fully understand what it feels like to be marginalised or oppressed.
""Try to think of Ally as an action rather than a label. Check your privilege and look into LGBT history and activism. ""

Aislinn Patten, Equality and Diversity Lead, Mental Wealth Academy
Do your own research to expand your understanding
Enquire respectfully

Don't assume that the individual you're speaking with can answer for everyone in the LGBTQ+ community. Also understand that while they may be open to sharing information with you, it isn't their role to teach you. You should be prepared to put some work in too!
Build up trust

This will make it easier to approach LGBTQ people you know with questions you're unsure about in a safe space.
Confront your own prejudices and unconscious bias

Don't assume the sexual identity of people you meet and support all LGBTQ+ groups.
Familiarise yourself with language/terminology

A great place to start is the Mind Out LGBTQ+ Glossary, which aims to help us all be better allies. As they say, there will always be evolving terminology around sexual and gender identities and simple explanations can be useful.
Learn about gender pronouns and how to use them

Using someone's correct personal pronouns is a sign of respect and an important way to show allyship and understanding of people's identity/identities. You could do this by inserting your pronouns next to your username on your social media profile and email signature.
It's okay to get it wrong sometimes!

If you're coming from a place of good intention and respect, most people will understand.
Acknowledge your mistakes gracefully

If you do get something wrong, don't make it all about you! For example, if you get someone's personal pronouns wrong, rather than making a huge apology, try and minimise the drama by acknowledging it, correcting it and moving on.
Respect people's rights to privacy

Be careful not to set an expectation that people have to share about themselves.
Be careful not to accidentally 'out' someone

Don't draw people into a group conversations or put them on the spot about LGBTQ+ topics, if they might not be out to everyone.
Consider intersectionality and LGBTQ+ experiences

Being part of a community is not a universal experience for everyone. Depending on their unique set of experiences, they will have faced different challenges.
Be wary of placing too much emphasis on labels

Some people will embrace labels such as Gay, Lesbian and Transgender as something they are proud of, while others would rather focus on being accepted as an individual.
Be mindful of the challenges your LGBTQ+ peers might be facing

LGBT Foundation research found that half (52 percent) of LGBTQ+ people experienced depression in the previous year and more than a quarter (27 percent) of LGBT people said isolation was a top concern for them during lockdown. Find out more about the impact of COVID-19 on LGBT communities.
Get involved in the community and show your support!

A good example of this is in 'Derry Girls' the TV show, set in Northern Ireland in 1990s. When a friend in their group comes out as Lesbian, they all start wearing Pride Flag badges – this would have been huge back then due to religious values of the country. Even if it is fictional, it's a great example of how supportive friends can be great LGBTQ+ allies.
If you're a young person aged 16-25 experiencing mild-moderate mental health concerns, or a friend or family member looking to refer to us on their behalf, get in touch with the Mental Wealth Academy and find out about the support on offer.