Thank you to all those who attended and gave feedback on plans for Banbury Safe Haven. We were really pleased that people felt able to speak openly about their own experiences, to help us understand how a Safe haven service in Banbury can be most useful.
Eight people came to share their own lived experience of mental health crisis and were joined by five members of Oxfordshire Mind staff.
It was explained that the planned purpose of the day was to speak a little bit about how and why the project is being set up and to find out people's view on what support they might need when in crisis, about at what point they would use Safe Haven or other support and to think about how the service can feel as accessible as possible.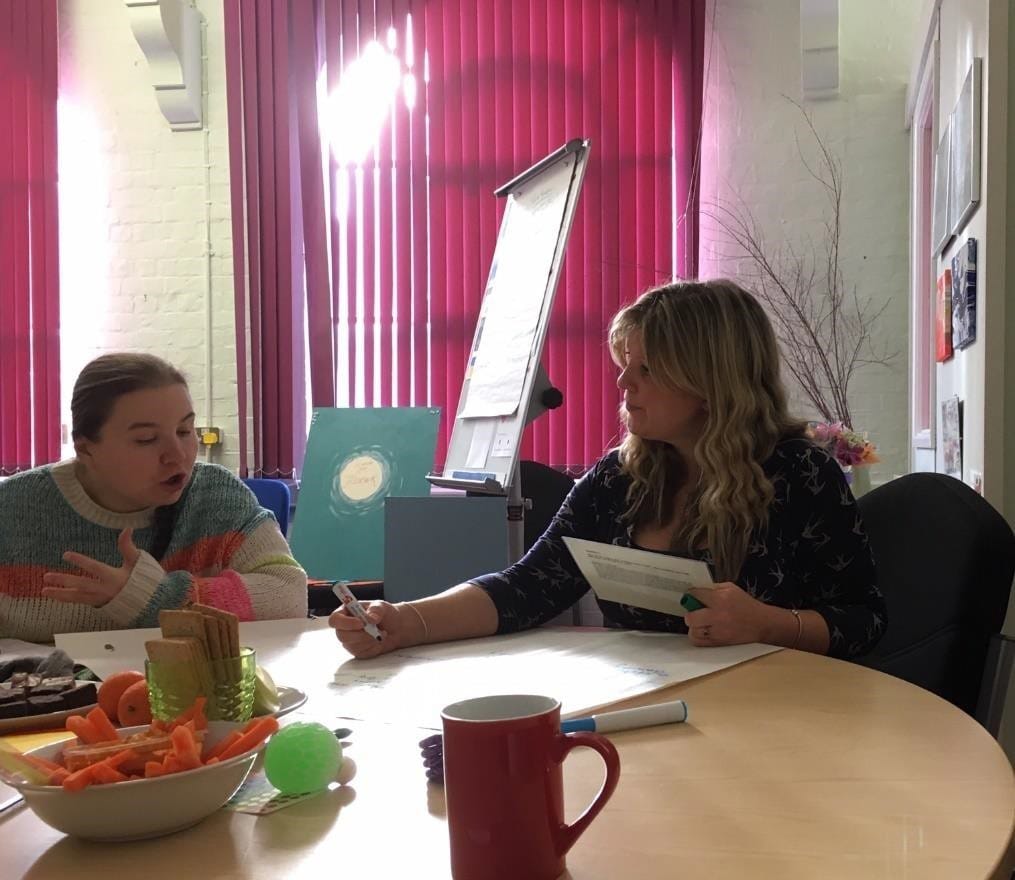 The group heard about Oxford Safe Haven, how the service works and how the team aim to support people. The service in Oxford is helpful as a starting point or template, but staff made clear that part of the reason for arranging today was to acknowledge that people in Banbury and the surrounding area may need a slightly different service.
The group contributed to a working agreement that would enable people to feel safe when sharing their experiences and opinions.
The group then focused on three questions, spending 10 minutes on each with a staff member to facilitate and help note down responses and ideas.
"You said, we will…"
There were a number of key points and themes that came up on the day. We will strive to include these points in our planning to enable as many people as possible to safely use Banbury Safe Haven.
"You said…"
Some people have difficult making phone calls, so would find it difficult to self-refer in this way.
"We will…"
Consider other methods of self-referral, such as email or text. We will need to make clear that we can't provide ongoing support via telephone, text or email. We also want to make sure that technical issues don't stop text or email referrals being received and that people wanting to self-refer are guaranteed to receive a response.
"You said…"
Confidentiality is hugely important in people feeling that they can use the service
"We will…"
Try to provide information to people using the service and also to selected taxi companies and/or transport schemes. We will limit this to what they need to know (how to get here), use local landmarks and could also consider offering guidance to drivers who are taking people to BSH (such as "the people you are taking may or may not be in the mood for light hearted conversation".)
"You said…"
It can be difficult to answer lots of questions when approaching or in mental health crisis.
"We will…"
Think carefully about how much information we need from people who wish to access the service. We understand that some people won't want to disclose much at referral, but we need to manage limited spaces available and also ensure we can keep people safe – we will need a certain amount of information to do this.
"You said…"
People find a number of different things helpful when in crisis
"We will…"
Try to provide a mix of spaces and environments within the building. These may include a quiet space, area to use distractions, area to spend time around others and space for some 'one to one' support from staff.

"You said…"
Transport is likely to be a challenge, particularly for those who need to travel in from the surrounding villages.
"We will…"
Speak to the local Volunteer Connect service and also speak to selected local taxi companies to see how they could help get people to the project. Funding is unlikely to be enhanced, but we will consider whether people could access financial support to attend for the first time, on the understanding that they would need to find a way to fund subsequent visits to Safe Haven.
"You said…"
It is important that anyone who might need the service can find out about what the service is and how to access it.
"We will…"
Advertise the service across the local area, including many of the suggestions provided such as with mental health services, GPs and in other public and community spaces.
Your feedback
"Well done, the session was well structured."
 
"Good discussions and exchange of ideas. Hopefully the Safe Haven will engender hope for the future for the one who has come for help."
 
"Really positive! Good to give personal views based on experience, especially in a warm and welcoming environment. J Thank you."

"Very good, very understanding. I would come here in a crisis."

"Today has been a wonderful experience with Safe Haven, run by the professional staff from Mind. They listen to our opinion which is very valuable so that the service will meet our requirements."
 
"Very informal which was good. More time working on ideas etc."
 
"Good to be asked and heard"

"Prefer 1 facilitator per table rather than circulating. Not enough time. Could ask people to feed in other ideas by email. How do you understand crisis – perhaps better to reflect on descent into crisis. Banbury is not the same as Oxford."

"It felt good to be able to contribute"

Service User Feedback