Oxfordshire Mind Comedy Gala 2022
On Saturday 15th January Jericho Comedy and a whole host of comedians came together to perform two fantastic comedy gigs at The Oxford Playhouse, all in aid of Oxfordshire Mind!
We would like to say thank you so much to all the wonderful comedians who gave up their time to perform at the Gala: Rosie Jones, Angela Barnes, Esther Manito, Jamie D'souza, Chelsea Birkby and our amazing MC Alex Farrow. A big thank you to the wonderful Harry Househam for overseeing the day! Also thanks to the brilliant CWRC Photography and The Lens People for capturing the day!
We would also like to say a very special thank you to the fabulous Jericho Comedy, who in the past 12 months have raised an incredible £22,764.85 through their weekend comedy gigs, Christmas cracker sales and the fantastic Comedy Gala at the weekend.
Jericho Comedy have been supporting Oxfordshire Mind for the last 5 years, they have been hosting weekly comedy shows, giving talks, putting on virtual festivals, selling Christmas crackers and hosting the annual Comedy Gala.
We are over the moon to announce Jericho Comedy's lifetime fundraising total has now hit a phenomenal £100,065.98!
We can't thank them enough for their incredible support and generosity, these funds have made a huge difference to the charity and the lives of those with mental health problems in Oxfordshire. Alex and Harry, your commitment to fundraising and spreading awareness of mental health is truly inspiring. You are AMAZING!!
Lastly, a massive thanks to our wonderful audience who joined as at the gala this weekend and streamed from home! We had a sell out evening show and over 70 households tuning in! We hope you had a fantastic time, and hope to see you again next year!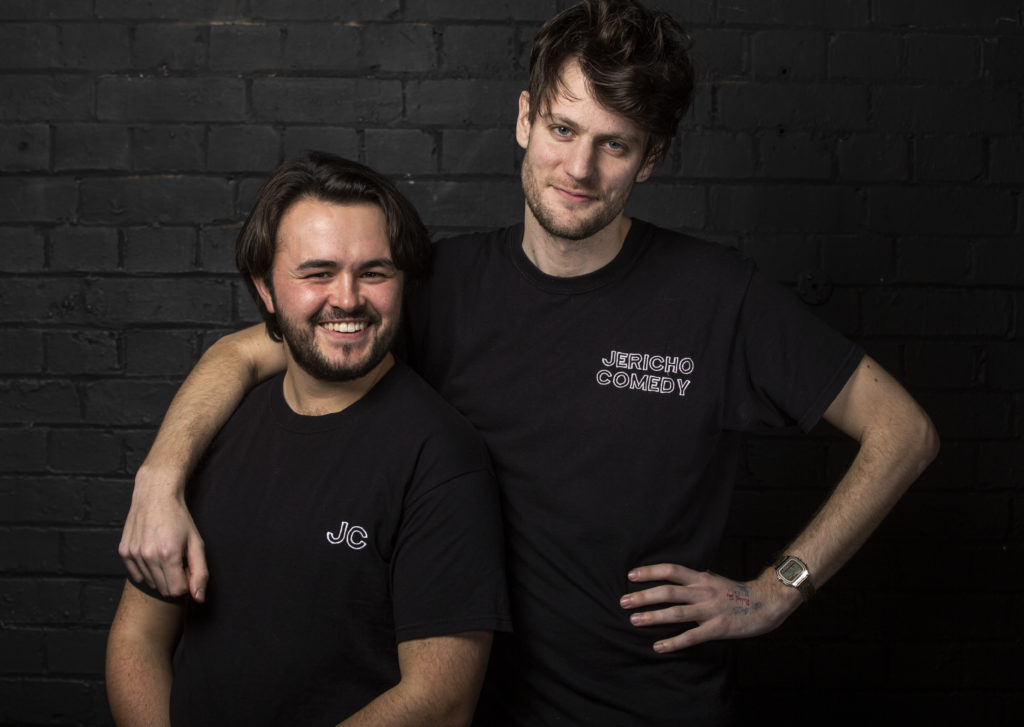 We are absolutely overjoyed to finally break past the £100,000 mark, we know how life changing and life-saving Oxfordshire Mind's services are to people across the county. We're incredibly proud to have fundraised so much as we know every penny will make a difference to service users and those who need it the most
We have loved every second we've fundraised, and we are absolutely blessed by Mind's employees being some of the kindest, warmest and most supportive charity workers you could have the pleasure of working with. Every step of the way they have celebrated, encouraged and supported our work as community fundraisers, they have empowered us to raise 6 figures for mental health
We had hoped to reach this benchmark before now, but due to the pandemic restricting in-person events it is our 5th comedy gala on 15th Jan that has FINALLY tipped us over the edge! The pandemic has really shown us the value of mental health services, the unifying nature that we have all mentally suffered over the last two years, and how important community and laughter can be to recovering from this historic time
The lockdowns really shed a light on isolation, and mental health, one of few positives to come from the pandemic is it has opened up how much we speak about mental health. It was a very hard time for comedians, freelance artists and performers, and a time where comedy clubs across the UK were closed. We're just overjoyed to have our doors open up again so that we can continue getting the people of Oxfordshire laughing again, and so we can continue on our mission fundraising as much as we can for Oxfordshire Mind and their incredibly work. Here's to the next £100,000!
Jericho Comedy – Alex Farrow and Harry Househam
Hosted by Jericho Comedy
Jericho Comedy is Oxford's independent comedy club, regularly hosting big names from TV and across the comedy circuit.
Winners of the 2019 & 2020 Chortle Comedy Industry Award for being the best comedy night in the region, as recommended by the Sunday Times, as heard on BBC Radio 4.
During the pandemic they've performed more drive in comedy shows than any other comedy club in England as well as performing on boats floating on the river Cherwell.
Recommended as the iPaper's 'Top socially distanced nights' out', ★★★★ 'Very funny' The Telegraph 2020 'Top 4 most memorable shows of 2020' Chortle. Nominated for 2021 spirit of the Leicester Comedy Festival.
Through these annual galas, and their weekly shows, Jericho Comedy has raised nearly £80,000 for Oxfordshire Mind!