The first-ever Movement and Mind Roadshow recently came to an end. This free 4-day event brought Oxfordshire Mind and its partners together to provide information and resources to our visitors to help and encourage small improvements in physical well-being and make physical activity accessible for everyone.
Partners at the Roadshows
Our partners were a big part of the roadshow's success. One of our partners was Achieve Oxfordshire. Achieve Oxfordshire offers weight loss services to both adults and children. With opportunities to get involved in swimming or football programmes as well as education about weight loss and support groups, they hope to support you through your whole weight loss journey and help you achieve your goals. Stop for Life OXON is another one of our partners offering 3 different levels of free support to help you stop smoking. With support options ranging from nicotine replacement therapy to an app to help, you take control of your smoking cessation journey. Community dental services were also there offering information and recommendations on everything related to dental health with chances to learn about what the best toothbrush and toothpaste were. Last, but not least, Active Oxfordshire presents its Move Together programme. This helps people across Oxfordshire to move more through personalised advice, activity packs to increase movement at home and regular contact to help you feel supported and motivated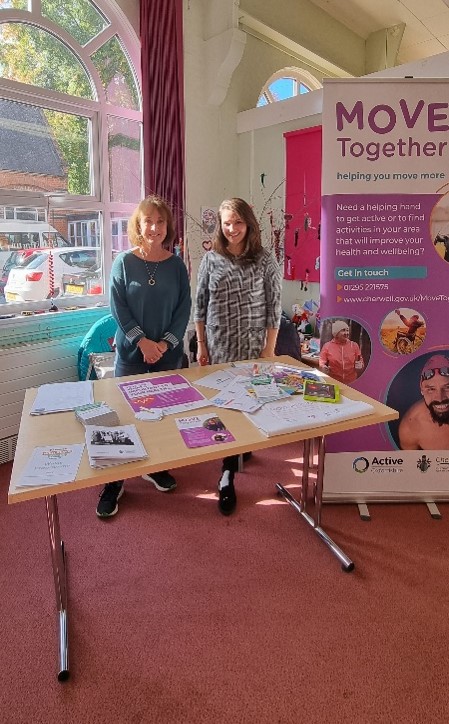 Oxfordshire Mind's Roadshow
In addition to our partners, the Oxfordshire mind physical activity health and wellbeing team were also attending each day helping people sign up for our Walking for Wellbeing groups, giving out self-help resources for people to increase their physical activity and helping people access options sections for any of their other wellbeing needs. We were also providing the details for the Sport in Mind group sessions across Oxfordshire.
Each day took place in a different Mind hub across Oxfordshire. We started in Banbury, our busiest day of the week. We then moved to Abingdon, Witney and then finally Oxford. I got the opportunity to meet so many of our visitors that had visited the roadshow for all different reasons. There were professionals in the healthcare sector looking to get advice to help their practice. There were members of the public looking for self-improvement tips for both themselves and their loved ones. There were also people who came just because they themselves were passionate about health and well-being and wanted to explore what was going on.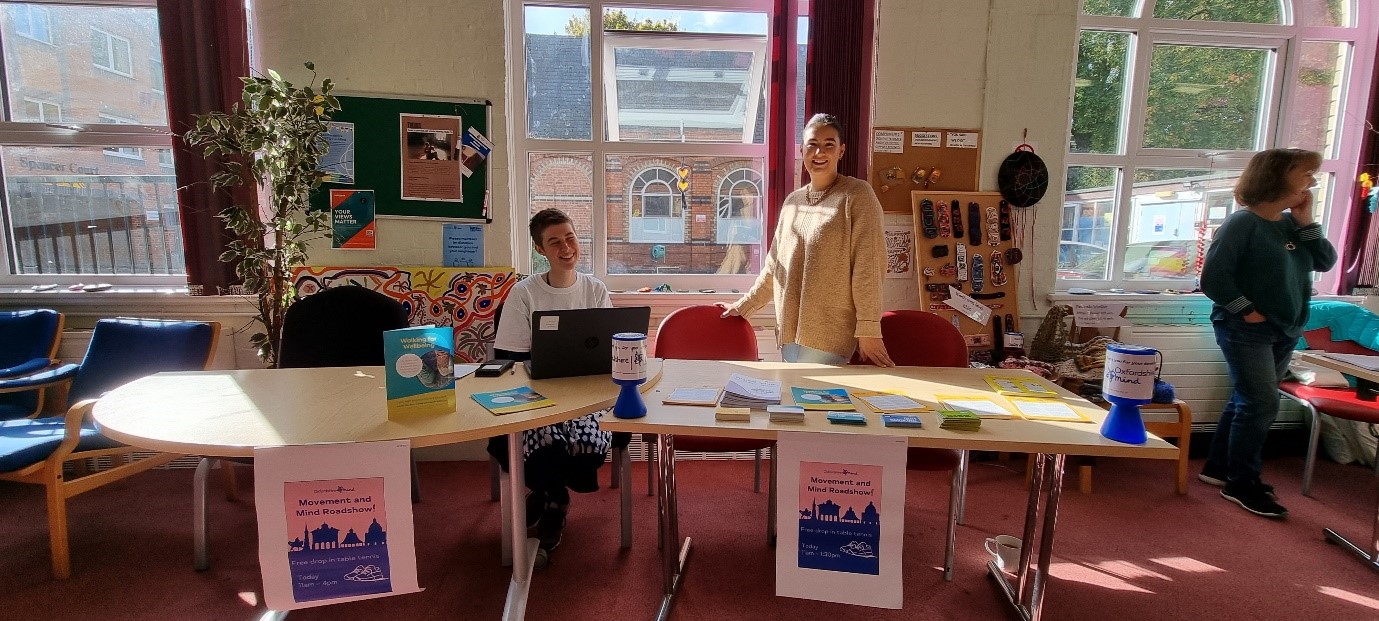 As a new member of staff at Oxfordshire mind and part of the physical activity, health and wellbeing team I found it to be incredibly helpful. I am so grateful I got to attend the roadshow so soon after joining Oxfordshire mind. It has allowed me to build a network of contacts that I will undoubtedly use as my career progresses. By speaking to each of our partners that attended allowed me to build my knowledge in different areas of physical health and collect resources that I will be able to use to help people I come into contact with while working at Mind. I now feel equipped to deal with any range of physical health goals I may encounter as I know I am not alone and there are so many services out there to help. Finally, the experience allowed me to meet many of my Mind colleagues and get closer to my team.
Whether you are an individual looking for help on your own health journey, you are someone who is employed to help people with their health journey or you want to have a go at table tennis for free! I am sure the Movement and Mind Roadshow would have had something for you. Please follow our socials to keep up to date with when the next Movement and Mind roadshow will be.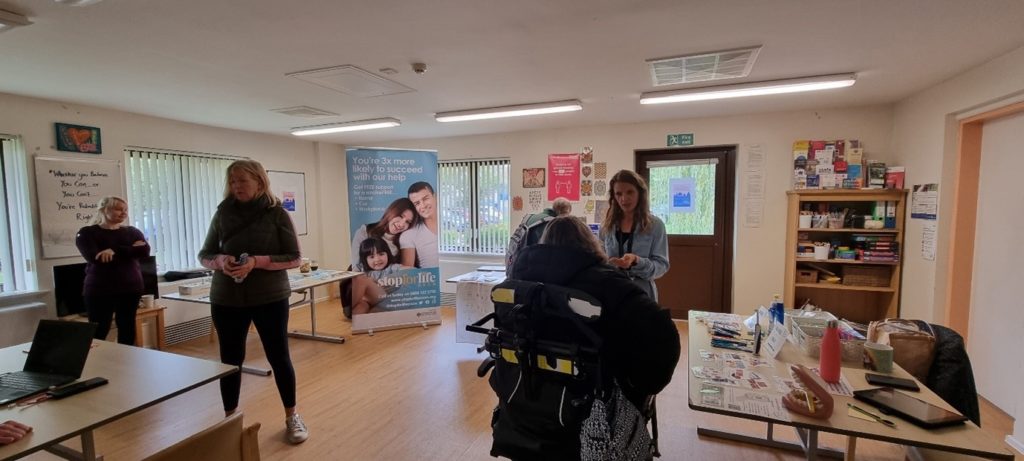 A big thank you goes out to all of the partners that attended the roadshow for their dedication to helping make physical activity more accessible and enjoyable to everyone.