Matt has raised over £2, 350 for charity and came over to visit us at the Abingdon Hub last week!
"It's ok, to not be ok but people have to speak out about it, however hard that might be. I still get a very shocked reaction when I tell people why I went into kickboxing. From an outside perspective my life looked perfect and like I was getting though it just fine, but in reality, I wasn't. Depression and Anxiety can affect anyone. It doesn't matter who you are, your lifestyle, finances etc. Literally anyone!!"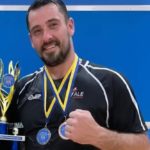 Matthew Grimes
World Champion Kickboxer
---
---
Matt competed with 24 others in the England team at the event in Greece last month, with his nation finishing in first place overall!
He achieved one gold and two bronze medals in three respective weight categories.
Matt said: "To win gold feels fantastic. We had a good, strong team and everyone did really well. It was extremely hot over there but a great experience, especially competing against some very technical fighters from all over the world."
Whilst competing Matt chose to support not only us but also Child Autism UK. Friends and family donated on mass to support Matt who in total raised over £2,350!
Matt came to visit our Abingdon Hub last week to pass over the cheque where Community Fundraiser, Mackenzie Aspell met with Matt to pass on our thanks and congratulations!
Matt first started kickboxing in 2018 after he was diagnosed with arthritis, which in turn affected his mental health.
Initially setting out to achieve a black belt, he has since competed in a multitude of competitions, including the British Championships in 2021, National Championships in 2022 and the English, European and now the World Championships this year, winning nine gold, seven silver and four bronze medals across all competitions.
Matt now wishes to focus on assisting others by creating a special kickboxing session to help men who may also be facing mental health struggles – so watch this space!
"Now I want to turn my attention to helping others. There aren't many men's only classes and where I train, they're open to the idea of doing a free session to help those struggling with their mental health. That's the plan for now and I'm looking to get this rolling within the next few months."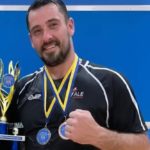 Matt Grimes