We are excited to announce our Instagram competition to win a fantastic prize! All you need to do is head over to our Instagram page and follow the below instructions:
Find our Instagram post with the title 'Comedy gala Competion time!'
Like this Instagram post
Tag who you would like to take to the comedy gala
Share this post and tag our instagram @OxfordshireMind
Find our Facebook post directing you to our Instagram competition
Find our Tweet with the title 'Comedy gala Competion time!'
Like this Tweet
Retweet this Tweet
This competition will be closing at 23:59pm on Thursday 13th January, so be quick!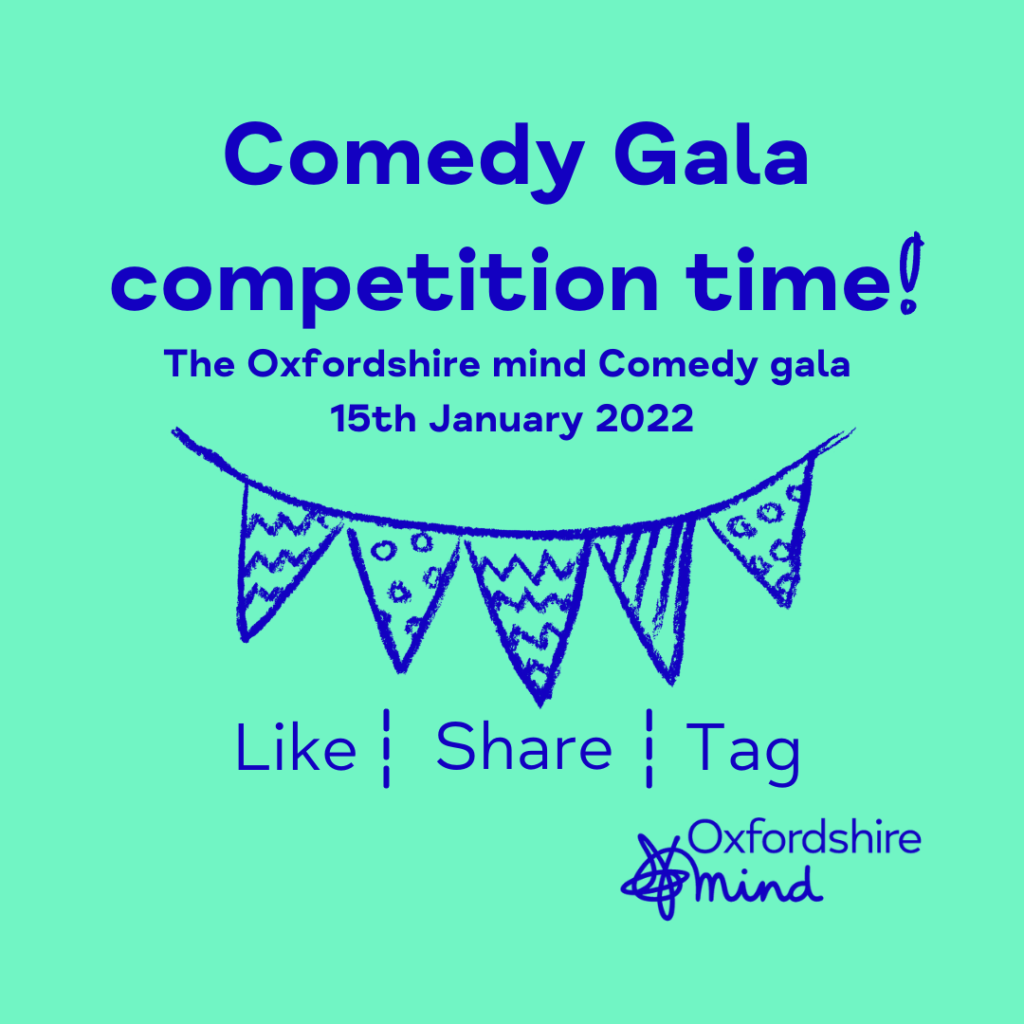 Terms & Conditions
Terms and conditions – The Comedy Gala Instagram competition. To participate in this competition, users must use either Instagram and like the Comedy Gala Competition time post, tag another user in the image comments and share this image on Instagram with the Oxfordshire Mind Instagram tagged. To enter on Facebook, users can use our post linked to the appropriate post on Instagram – Instagram rules must then be used.. To enter on Twitter, users must use Twitter and like the Comedy Gala competition time Tweet and ReTweet this Tweet.
This competition will run until 23:59 on Thursday 13th January 2022. Entries made by direct reply to this T&C page will not be accepted.
2. Oxfordshire Mind will randomly select random one winner from all entries across Facebook, Twitter and Instagram, after 11.59pm on 13th January. Only those who have completed all criteria in 1) above. Any entries made after this point will not be counted.
3. The contest is open to all residents of the United Kingdom (England, Scotland, Wales and Northern Ireland). Delivery of the prize can be made in or around Oxfordshire.
4. The prize consists of Hotel Chocolate Everything Sleekster, retailing at £23.50.
5. The lucky winner will be required to provide contact details, including an email address, contact phone number and home address. Oxfordshire Mind will then give more information about how you claim your prize.
6. In the event of any unforeseen circumstances, we will provide an alternative prize of equal value.
7. This competition is free to enter and can only be entered via Instagram, Twitter or Facebook. However, to access Instagram, Facebook or Twitter, you will need an internet connection. You cannot claim a refund for any expenses incurred whilst participating in the promotion, including in relation to the use of the internet.
8. We reserve the right to exclude any entries we believe to be inappropriate, fraudulent or based on misconduct.
9. We cannot transfer, refund or exchange the prize for alternative items or cash.
10. Once the winner is announced, they will have 48 hours to claim their prize. After this time, we reserve the right to select a new winner.
11. By taking part in this promotion, all participants consent to us collecting, storing and using their data submitted with their entry for this promotion
12. Instagram, Facebook or Twitter are in no way associated with this competition. It is not sponsored, endorsed or administered by Instagram, Facebook or Twitter. You are providing your information to Oxfordshire Mind and not to Instagram. By participating in this competition, you acknowledge and accept the complete release of Instagram, Facebook and Twitter from any claims.
13. Oxfordshire Mind will endeavour to count all entries but does not accept responsibility for lost, damaged, or delayed entries.
14. Promotion after the competition may require the winners to participate in related publicity without further reward.
15. Oxfordshire Mind reserves the right to withdraw or amend without notice this promotion in the event of any unforeseen circumstances outside of its reasonable control.
16. This promotion and these terms and conditions are governed by English law and subject to the exclusive jurisdiction of the English courts.
18. This promotion is subject to Twitter's terms of service which can be found at: https://twitter.com/en/tos
19. This promotion is subject to Facebook's terms of service which can be found at: https://www.facebook.com/terms.php
19. The Oxford Playhouse, Jericho Comedy and any associated comedian are not associated with this competition.